2016 RBS Six Nations Television Coverage
2016 marks the beginning of  new six-year deal between the BBC and ITV for the broadcasting rights to the RBS Six Nations. The two rival networks came together in July last year with a package worth to ensure the tournament will stay on free-to-air television, and out of the hands of Sky. But what games are on what channel? We have put together the full fixture list, alongside the kick off times and what station you can catch each game on. As well as that, we compare the presenting team from both networks. https://www.youtube.com/watch?v=C_-JdySWLHI So, which nation is on which station? BBC will show home matches from Wales, Scotland and France, while games from London, Dublin and Rome will be with the newcomers. Here is the full set of RBS Six Nations fixtures:
Week
1
France v Italy (February 6th - 14.25 all times GMT)
BBC
One
Scotland v England (February 6th - 16.50)
BBC
One
Ireland v Wales (February 7th - 15.00)
ITV
Week
2
France v Ireland (February 13th - 14.25)
BBC
One
Wales v Scotland (February 13th - 16.50)
BBC
One
Italy v England (February 14th - 14.00)
ITV
Week
3
Wales v France (February 26th - 20.05)
BBC
One
Italy v Scotland (February 27th - 14.25) 
ITV
England v Ireland (February 27th - 16.50) 
ITV
Week
4
Ireland v Italy (March 12th - 13.30) 
ITV
England v Wales (March 12th - 16.00) 
ITV
Scotland v France (March 13th - 15.00)
BBC
One
Week
5
Wales v Italy (March 19th - 14.30)
BBC
One
Ireland v Scotland (March 19th - 17.00) 
ITV
France v England (March 19th - 20.00)
BBC
One
That's the games covered, but what about the presenters and pundits? Auntie Beeb have gone with the tried and tested format - John Inverdale, Gabby Logan and Jason Mohammad are the lead presenters, and they will be joined by Eddie Butler and Andrew Cotter in the commentary box, with Jeremy Guscott, Jonathan Davies, Brian Moore, Keith Wood, Chris Paterson, Andy Nicol, Thomas Castaignede, Carlo Del Fava, Martyn Williams, Mike Tindall, Lewis Moody and Ali Williams offering their insight in pre- and post-game punditry. Six Nations champions and World Cup winners galore in that mix!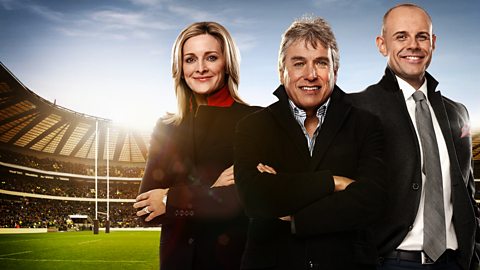 ITV have a lot to live up to, but having successfully covered the 2015 Rugby World Cup, they already have a solid starting point. Presenting, they will have Mark Pougatch, Jill Douglas and the 6ft 10in Martin Bayfield. Talking us through the games will be Nick Mullins and Martin Gillingham, who lead they way during that RWC coverage. Keeping them company, Shane Williams, Gordon D'Arcy, Ben Kay, Scott Hastings and David Flatman take on co-commentator duty. But in the studio may well be where ITV edges the Beeb, with Jonny Wilkinson, Lawrence Dallaglio, Jason Robinson, Sir Clive Woodward, Brian O'Driscoll, Gareth Thomas, Sir Ian McGeechan, Maggie Alphonsi, Ugo Monye and Marco Bortolami all joining the party. Lions coaches, record holders, more World Cup winners, international captains - what more could you ask for?!
The tournament kicks off in Paris in just over 2 weeks time, and we can't wait! The World Cup feels like an age ago now.
---