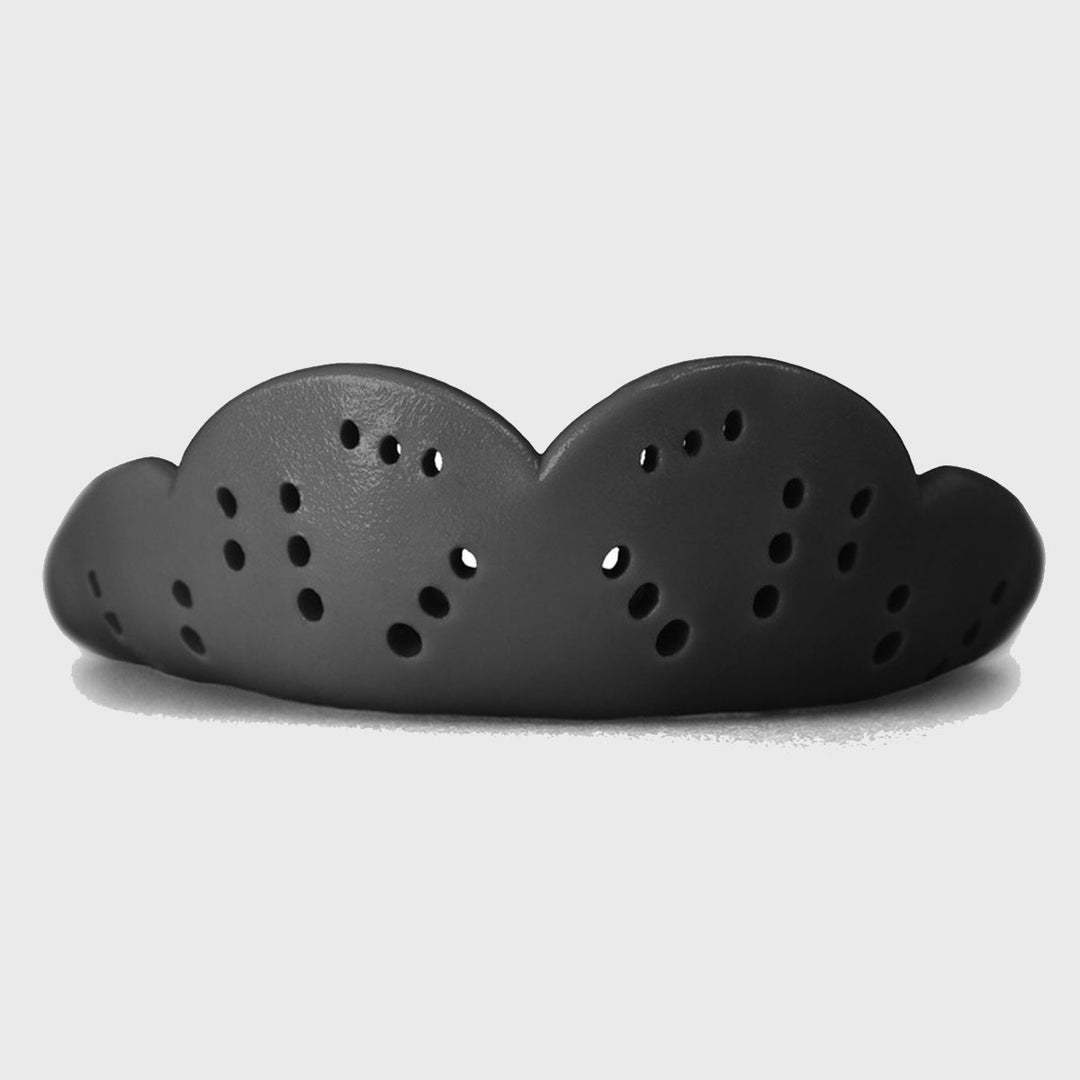 SISU Max 2.4 Mouthguard Charcoal Black
Regular price
$39.00
/
Tax included.
In stock, ready to ship

Inventory on the way
Free UK delivery on orders over £75
Order before 3pm for same day dispatch
Free UK returns with Royal Mail
Extended Christmas Returns - 31st January 2024
---
Sisu Max 2.4 Mouthguard Charcoal Black
At 2.4mm thin, the SISU Max Mouthguard offers the most protection of any SISU guard, but is still 30% thinner than conventional sports mouth guards. It's custom-fitted so you'll be able to talk, breathe and drink better than ever before. This SISU mouthguard really is the best of both worlds. 
2.4 mm thin
Up to $50,000 limited dental warranty
Ages 11+ (also for braces ages 7+)
Non-toxic: BPA, BPS, Latex, PVC, Phthalate free 
ADVANCED TECHNOLOGY
The SISU Max Mouthguard is the latest evolution in mouthguard engineering by the makers of SISU Guard. Simply put, it is the most powerful mouthguard ever built. With its unmatched quality and functionality, SISU Max was designed with the rugby player in mind, and unique new features are hyper focused on additional protection and comfort.
WAY MORE PROTECTION
The Max guard is made from high-tech thermoplastic material that is 50% stronger and has 8x greater tensile strength than conventional mouthguard materials. So if you'll be colliding at full velocity into giant competitors at frequent intervals, the SISU Max is the mouthguard for you.
STILL LESS MOUTHGUARD
Even when you wear a Max guard, you don't have to sacrifice a more comfortable mouth. The SISU Max is only 2.4 mm thick, making it 30% thinner than your typical mouthguard. It's custom-fitting AND you'll be able to talk, breathe and drink better than ever before. It's really the best of both worlds.
SISU is a great mouth guard for braces! The SISU mouthguard for braces is thin and you can remold it as your teeth are shifting, but before you run for the bowl of hot water, we want to walk you through how to fit a mouthguard with braces. Please make sure to read through the rules below to help you with your fitting and avoid damaging your brackets:
All athletes wearing braces ages 7 and up must use the Aero Medium, Aero Large, or Max. (You cannot use Aero Small with braces)
2. CONSIDER A MOUTHGUARD FOR YOUR BOTTOM TEETH
SISU Mouthguards can be fitted to the top or bottom teeth. If you have braces, we recommend that you buy an additional guard to fit on your bottom teeth to prevent your lips from getting cut on the brackets.
3. YOU MUST USE A BARRIER BETWEEN THE BRACKETS AND THE GUARD
When fitting SISU with braces, you need to cover the brackets with dental wax or aluminum foil. SISU is a custom fit mouthguard that fits perfectly to your teeth. Without a barrier over the brackets, the SISU will create a vacuum tight seal around the brackets and be hard to get off. The good news is that you only need to use the barrier during the fitting process. Once fitted, you can wear the guard right over the braces. Be sure that the guard does not curve up and over the bracket where it will harden and become difficult to remove- block out the area above the bracket with dental wax.
4. YOU SHOULD WORK WITH YOUR DENTAL PROFESSIONAL
Braces are an investment in time and money, so you want to do it right. During critical times when your teeth are undergoing rigorous adjustments, your orthodontist may recommend an alternative solution, so not to hinder the progress of your treatment. Work with your dental professional to help you fit, and re-fit, your SISU when you come in for your adjustments.
5. AS YOUR TEETH SHIFT, YOU SHOULD REFIT THE GUARD
As your teeth shift during the orthodontic treatment, the mouthguard should be adjusted to fit your new shape. The guard is remoldable for up to 20 times, so you can continue using it, as your teeth shift and move. Simply bring it with you for each adjustment and it can be re-fitted right in the office with a bit of hot water (and the barrier). No impressions required!
6. HOW DO I REMOVE A GUARD THAT IS STUCK TO MY BRACES?
Please follow these steps to safely remove the guard:
Gather the following tools: A cup of very hot water, cotton swabs, cotton balls, cotton gauze, a pair of tweezers, and a washcloth.
Take care to protect the mouth to prevent burns due to hot water exposure! Use the washcloth or cotton gauze to absorb excess hot water when applying the soaked material to the guard.
Begin by using the tweezers to apply hot water-saturated cotton swabs or cotton balls to the guard area surrounding the brackets, to soften the guard.
As the guard softens, use the tweezers to slowly and gently, pull the guard away from the brackets. Focus on smaller areas, progressing until the guard can safely be removed. (Reheat the water as necessary to maintain the temperature needed to soften the guard.)
Personalisation is available on a variety of items and includes printed initials, names and numbers.
Select the shirt printing option from the drop down box if available and fill in the fields with the exact information you require. Please double check all spelling and number choice as what is entered is final.
Our expert team with over 20 years of shirt personalisation experience will select the font and vinyl colour that best matches your product selection.
The shirt printing process normally takes us less than an hour to complete so should not affect your dispatch time. Bespoke design ensures the name and number fit perfectly on your choosen rugby kit.
Initials - £3 - Up to 3 characters, usually printed on the hem on shirts.  Printed above the brand logo on shorts or below on track pants.
Names - £6 - Up to 12 characters, printed across the shoulders.
Numbers - £6 - Up to 3 numbers, printed across the back.
Name & Number - £10 - Up to 12 characters for the name and 3 for the number. Printed across the shoulders and back.
Please note, once an item has been printed, we are unable to accept it for a return or exchange, except in the case of a manufacturing fault.
FREE UK DELIVERY ON ALL ORDERS OVER £75
UK Standard Delivery - £4.99.
UK Express Delivery - £8.99.
Store Pickup is available from our Edinburgh store free of charge.
Local Delivery
Available within a 4 mile radius of our Haymarket store. Your order will be delivered within 1-2 working days. Minimum spend of £40.
Delivery is also available to destinations worldwide with DPD and DHL.
For full delivery information click here.
At Rugbystuff.com, we understand how difficult gift buying can be. Therefore, to make sure everyone gets the correct items in the right size we are offering an extended Returns Policy over this festive period.
Any Christmas gifts bought between 1st November and Christmas Eve 2023 may be returned for an exchange or refund until Wednesday 31st January 2024. Standard conditions apply.
Click here for more information, as well as our delivery deadlines and opening hours.